We're honored to work in facilities that encourage and enable us to be our best and give our best, every single day.
As part of our commitment to continuous improvement, Yulista has worked to consolidate its facilities into 2 local campuses, The Redstone Gateway and The Aviation Center of Excellence. These are strategically located near several of our most important DoD and government agency customers.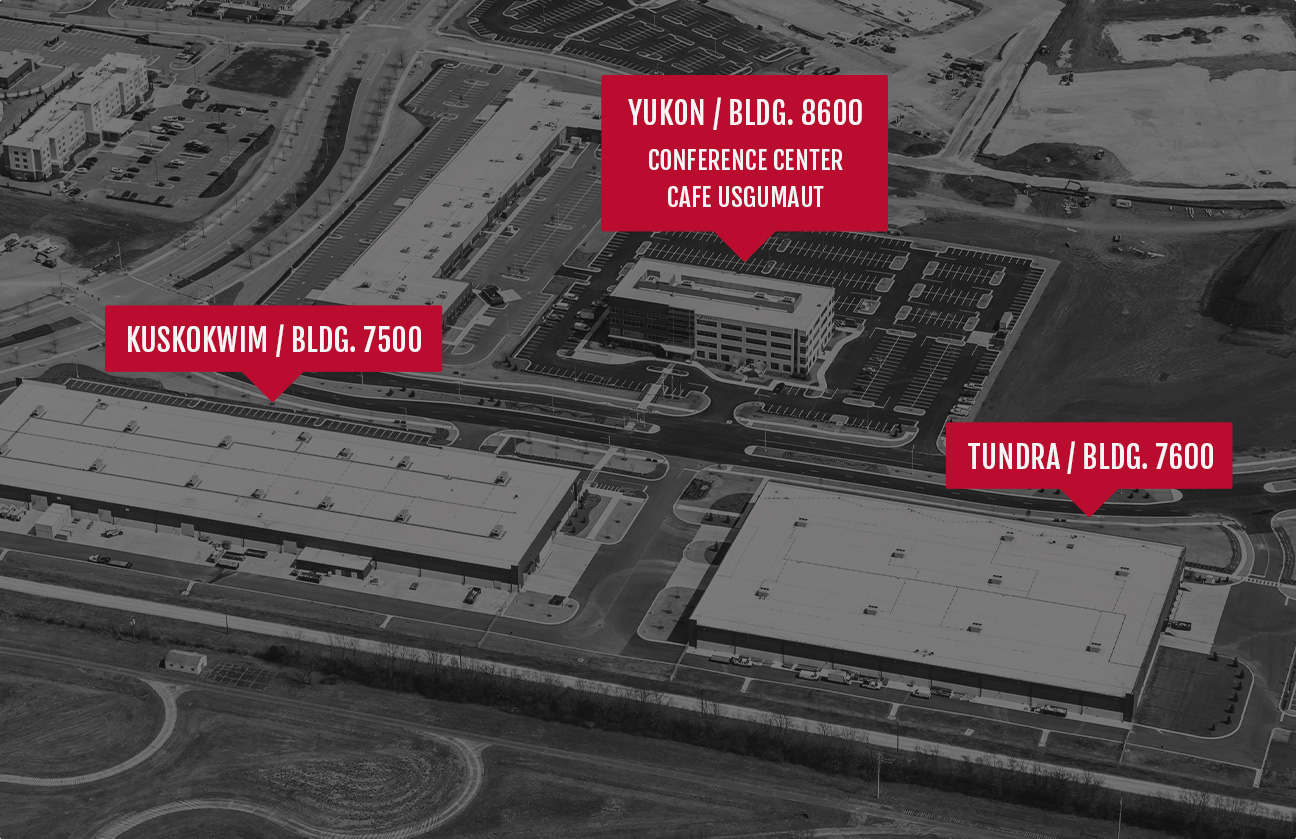 8600 Advanced Gateway SW
Huntsville, AL 35808
Redstone Gateway
Huntsville, Alabama is the home to our corporate headquarters and main operations serving hundreds of contracts and over 800 team members. With over 365,000 sq.ft., our world class facilities give us a tremendous advantage as we can quickly support and host our customers in a convenient location. The 3-facility campus brings team members together to collaborate and focus on serving others.

Our headquarters are located in The Yukon, a state-of-the-art building with 105,000 square feet and 4 floors of modern collaborative workspace for corporate and subsidiary employees. Café Usgumaut (Café Us) is available for gourmet food and Starbucks beverages as well as catering. Businesses and customers can also reserve our new 5,200 square foot Conference Center.
The Tundra Building at 7600 Advanced Gateway SW, hosts a 126,000 square foot warehouse and distribution center that includes space for kitting operations to support ground integration, mechanical and electrical manufacturing, and aviation integration kits.
The Kuskokwim Building at 7500 Advanced Gateway SW, comprises 133,00 square feet of R&D, Fabrication, and Integration operations. The facility is used for supporting ground systems integration and for supporting fabrication. This facility also supports Alodine® and chromate conversion aluminum protective coating services with corrosion resistance.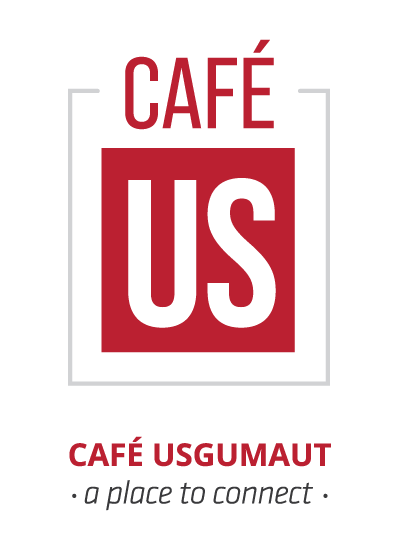 Yulista's Café Usgumaut (Café Us) offers a shared space to grab Alaskan native North Pole Coffee, breakfast, lunch or a casual spot for small meetings. It's a perfect place for our team members, neighbors and the community to connect. 
Café Us is located on the ground floor of Yulista's headquarters in Redstone Gateway, right outside of the Redstone Arsenal's Gate 9. Check out our monthly specials, specialty coffee offerings and more! We look forward to serving you!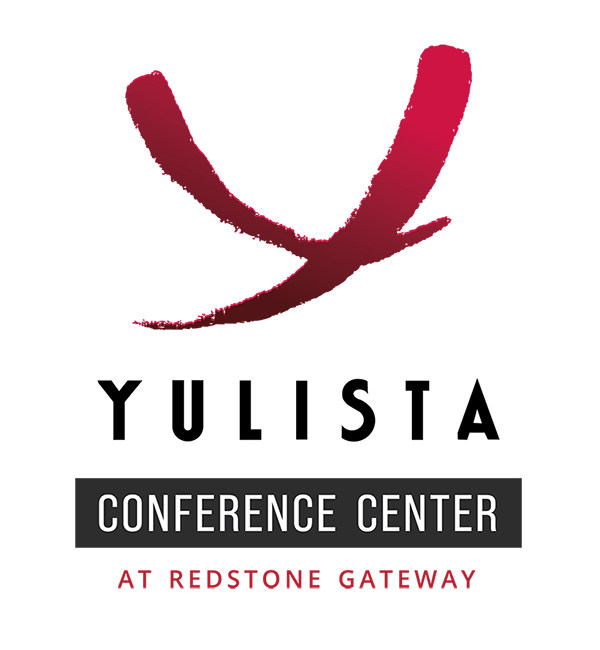 The Yulista Conference Center has 5,200 sq/ft of available space and can be configured in several different arrangements to accommodate a variety of event types. The conference center accepts reservations for corporate and government events and catering options are available through our Café, conveniently located adjacent to the conference center.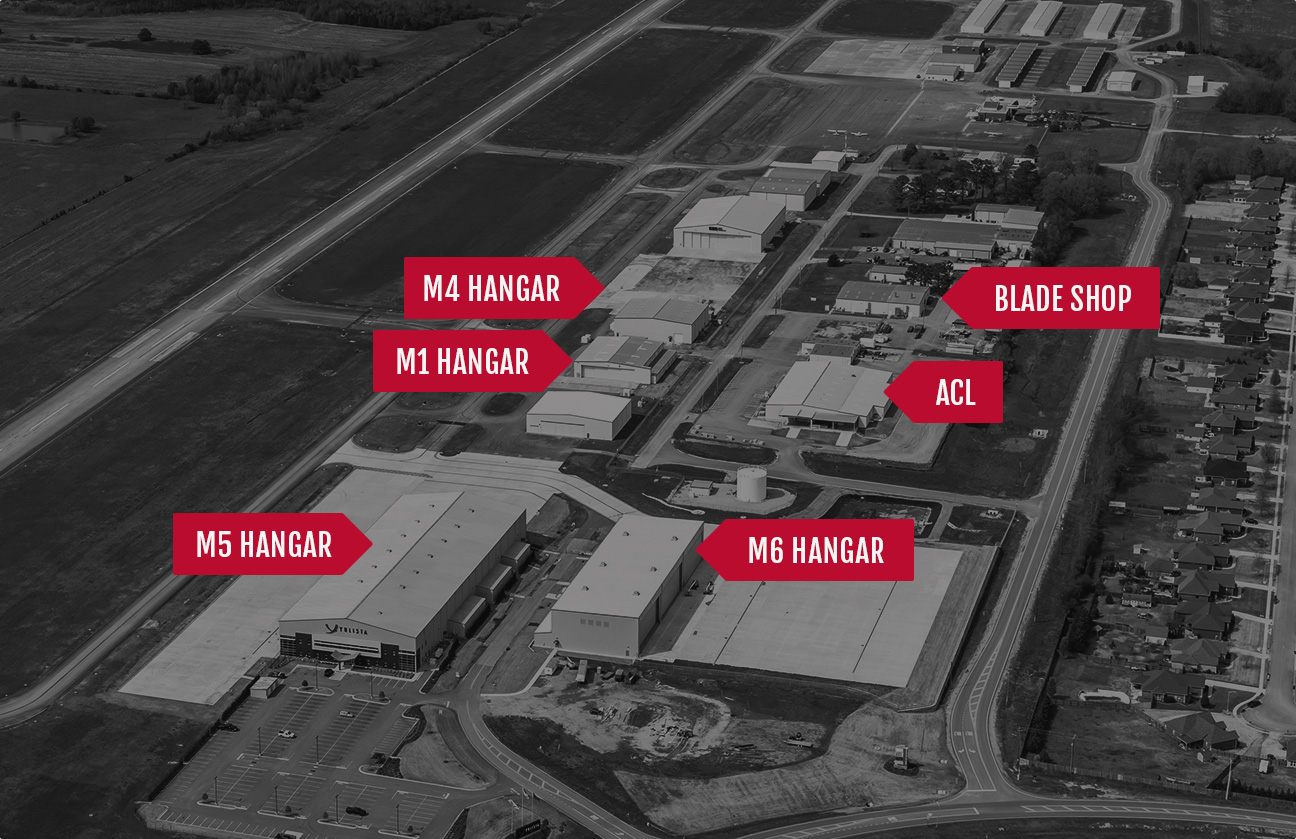 Aviation Center of Excellence
120 Yulista Drive
Meridianville, AL 35759
Huntsville Executive Airport
Just a short drive down the road is Meridianville AL, home of The Aviation Center of Excellence, also known as the ACE. With over 198,000 sq. ft., The ACE accommodates all our aviation work at the Huntsville Executive Airport. The materials manufactured and fabricated at the Redstone Gateway, come to the ACE to be integrated and modified. The ACE is an AS9100D, AS9110B Part 145 Repair Station. 

The Aviation Center of Excellence, known as the ACE, is located at the Huntsville Executive Airport in Meridianville, Alabama just a short drive north from Redstone Arsenal in Huntsville, AL. The ACE is an AS9100D, AS9110B Part 145 Repair Station. Yulista's presence at the ACE includes 4 hangar spaces, 2 parking aprons, a blade shop, and an advanced composite lab. 
The M5 hangar came online in 2017 and consists of approximately 55,000 square feet of aircraft workspace and 20,000 sq ft. of office space. M5 is a National Fire Protection Agency (NFPA) 409 Group 1, Type 1 aircraft hangar that meets National Aerospace Standard 3306 requirements for fueled aircraft storage and maintenance without waivers. The key element in meeting these requirements is the High Expansion Foam fire suppression system. This hangar supports fixed, tilt rotor and rotary wing aircraft. 
The M6 Hangar is our most recent hangar at the ACE with approximately 34,000 sqft. of workspace. M6 is capable of accepting aircraft up to and including V-22 aircraft. It also adds aircraft paint capability utilizing Carcoon inflatable workstation technology. Like the M5 hangar, M6 meets all NFPA 409 and NAS 3306 requirements and has a high expansion foam fire suppression system.
 total Sq. Ft. across 12 facilities
 Sq. Ft. of Conference Space
Sq. Ft. of Multifunctional
Sq. Ft. of Fabrication/Manufacturing
Sq. Ft. of Project Management
Sq. Ft. of Shipping & Receiving
Sq. Ft. Fully NAS3306 Compliant Modification, Integration, and Sustainment Aircraft Hangars Supporting 3 FAA Part 145 Repair Centers
Contract Sites & Locations Nationwide
We are people driven, and our facilities reflect our people – our team, our customers, and our shareholders. They act as an enabler to execute professionally and help us live up to the standards and values our shareholders and customers expect from us. Each facility and team member plays an important role in fulfilling our purpose and turning it into reality. Our nationwide field teams allow us to rapidly respond to our customers' most critical and crucial mission requirements.