Yulista Holding, LLC. is closely monitoring the status of the executive order requiring COVID-19 vaccines for all federal contractors, unless there is an accommodation in place for personal medical condition or sincerely held religious belief that prevents vaccination. The mandate is currently on hold due to a nationwide injunction. The U.S. Court of Appeals will review the injunction status in the coming weeks. Please be advised that as a federal contractor Yulista and it's subsidiaries will be subject to follow the requirements set forth in the mandate, should the injunction be overturned.
---
Yulista Holding, LLC and its subsidiaries are owned by Calista Corporation, an Alaska Native Regional Corporation. The backing of our parent corporation, along with our success allows us to offer employees a stable and rewarding career.
We only accept applications for open positions. If your application submission meets our requirements it will be processed for further consideration. If you are selected for a position, we will contact you with additional instructions.
Preference will be given to Calista shareholders and their descendants and spouses, and to shareholders of other corporations created pursuant to the Alaska Native Claims Settlement Act, in accordance with Title 43 U.S. Code 1626(g) and Title 42 U.S. Code 2003-2(i).
Additionally, Calista's policy is to select, train and promote the most qualified individuals based upon relevant factors such as work quality, attitude and experience, so as to provide equal employment opportunity for all employees in compliance with applicable local, state and federal laws and without regard to non-work related factors such as race, color, religion / creed, sex, sexual orientation, gender identity, national origin, age, disability, marital status, veteran status, citizenship or other protected status. When applicable, Calista's policy of non-discrimination applies to all terms and conditions of employment, including but not limited to, recruiting, hiring, training, transfer, promotion, placement, layoff, compensation, termination, reduction in force and benefits.
Yulista is committed to hiring qualified Veterans. Over the past year, over 40% of Yulista new hires were Veterans. We would not be #TeamYulista without their strong leadership skills, mission-focused approach to work, creative problem-solving, and unwavering integrity. We are currently hiring many specialties in locations across the US. If you are or know servicemembers/Veterans looking for employment, we'd be honored if they reviewed our open positions.
VISION
We are a forever company. A team connected to our past and committed to a future of enduring prosperity and inspiration for our Alaskan Native Shareholders.
MISSION
Our mission is to serve people. We elevate the lives of our teams and shareholders while delivering value-added solutions and unparalleled customer experiences. 
VALUES
Mission Ready – We back our service members & our shareholders. People First.
Loyal – We are devoted. We serve each other & our partners around the world.
Dedicated – We are committed to doing things right.
Together – We work together. We collaborate. We are a family. When one wins, we all win.
Resourceful – We solve problems. We make the impossible possible.
Resilient – We adapt, overcome, and grow.
To learn more about Yulista, please visit our 2021 Impact Report that is linked below.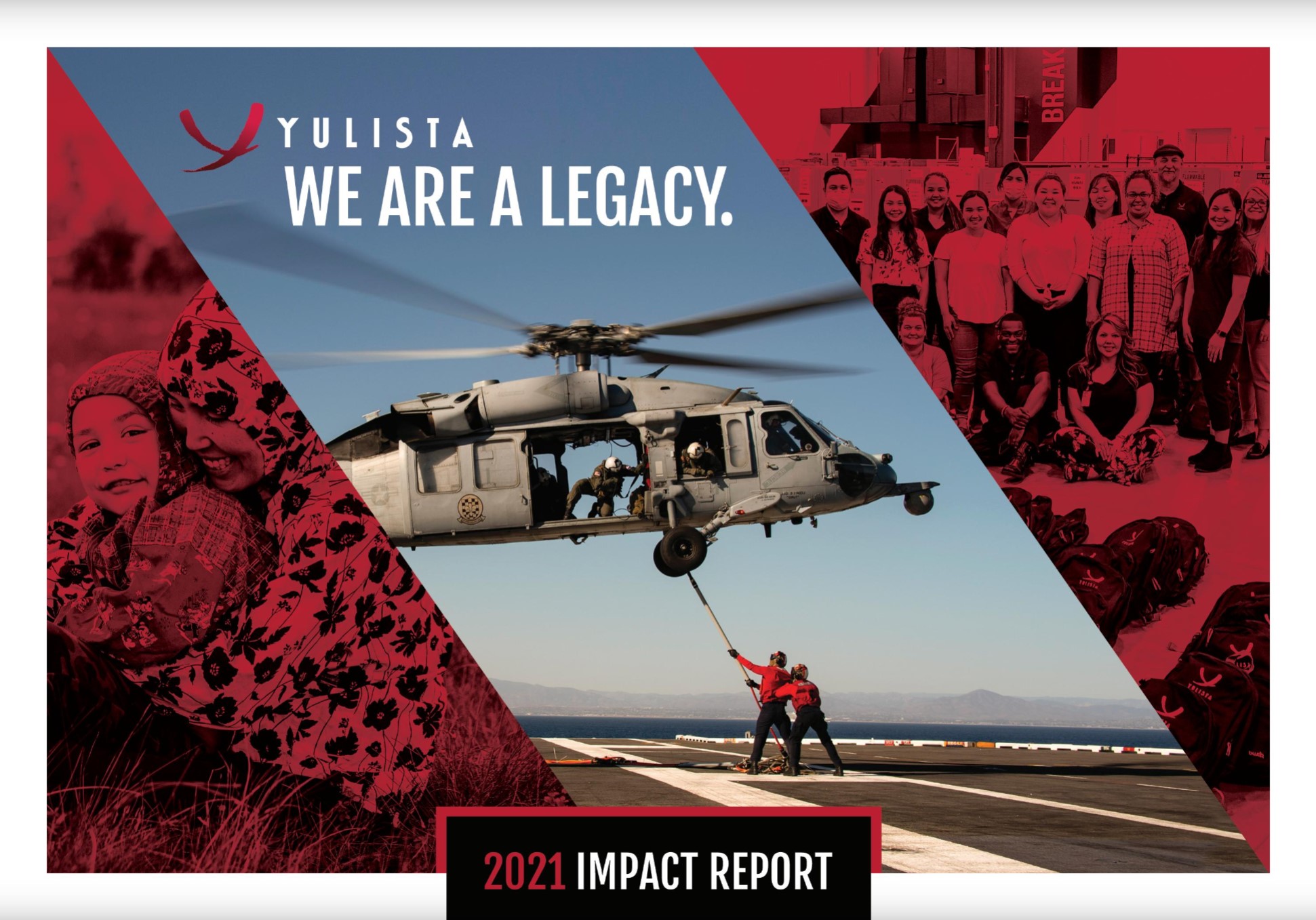 ---
For more information, see our FREQUENTLY ASKED QUESTIONS.
For questions regarding open positions, contact our recruiters at .
For general HR questions, email
Yulista Holding, LLC. is an Equal Opportunity Employer.