For the first time in 50 years, NASA is gearing up for its voyage back to the moon. As the world awaits in anticipation of the Artemis I launch, team member, Dr. Seth Thompson, shares his insight on how Yulista's subsidiary, Troy7, is playing its part in this historic moment.
NASA's Artemis I mission has been in development for over a decade. The objective behind this mission is to conduct the first flight test for all the components of both the NASA SLS rocket and Lockheed Martin's Orion spacecraft. This test run will demonstrate the SLS stage capabilities, the Interim Cryogenic Propulsion Stage (ICPS) capabilities, and the Orion spacecraft. Additionally, this mission will demonstrate our ability to return to the moon and utilize advanced multibody orbits. Scientists and engineers will be studying the long-term capability of the Orion in lunar orbit and the Distant Retrograde Orbit, which is a unique orbit to test flight capabilities.
Not only will be we able to prove our ability to travel back to the moon, but we will be able to determine our ability to return to cis-lunar space with a human capable spacecraft and evaluate the duration of time we can stay there. However, this is the long-term objective, to start the Artemis I mission will be unmanned and plans a mission elapsed time of around 26-42 days depending on when Orion arrives in the distant retrograde orbit (DRO).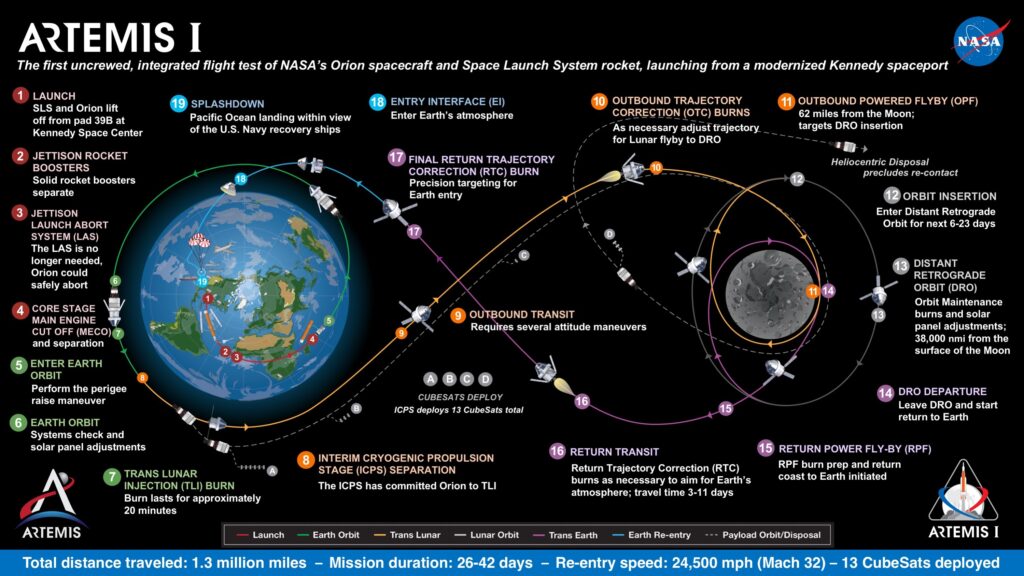 As you can imagine, there are many critical elements that have been in the works for decades to make this possible. There are thousands of moving parts that can make or break the success of this mission. One of those moving parts is the trajectory solutions and that's where Troy7's, Dr. Seth Thompson, expertise comes in to play. Dr. Seth Thompson states, "Trajectories are the optimized path to where we want to go. They demonstrate how we fly to the moon as well as the timing of the mission. We provide critical mission targets so that the following analysis have something to anchor too. Additionally, we provide the targets that guidance and navigation use to target their propulsive maneuvers too. Troy7 has helped in the analysis and production of the trajectories for Artemis I. We have assisted in the development and flight readiness of the vehicle by providing insight into mission analysis and design, including insight into spacecraft controls, and flight software verification."
This is an exciting moment in history, and we are thrilled to be a part of it. Dr. Seth Thompson shares, "We have the capability to return to the moon and if we are successful in this mission that could be a catalyst to the colonization of space with these keystone missions."
Along with the rest of the world, we eagerly await the launch of NASA's Artemis I and can't wait to see what is unveiled for the future of space exploration.