Calista Corporation's 10-week internship program offers Calista Shareholders and Descendants hands-on work experience through their supporting holding lines and subsidiaries. 
2023 Calista Corp. Summer Intern Program
Calista Corporation's Internship Program is a catalyst for Shareholders and Descendants to get into varying career industries that pique their interests. Our interns get into diverse industries, including Engineering, Accounting, Government Contracting, Business and Marketing, Cultural Preservation with Calista Education and Culture Inc., and much more.
The 10-week internship not only offers fair wages to participants to invest in themselves through educational and training advancement opportunities, but also to cultivate new skills and sharpen those that they already have. During the program, the interns learn what their individual role means to Calista and to our Shareholders and Descendants as a whole.
"The internship program ensures the students may become the leaders we encourage them to be for the coming generations of Calista Shareholders and Descendants.
MEET THE Yulista 2023 INTERN TEAM
Yulista welcomed Calista Corporation Shareholders and descendants to Team Yulista for the summer. This year we had 13 interns located in Alabama, Texas, Florida and Alaska. The internship opportunities for the Shareholders offer various positions in various departments to gain skills for future careers.
Yugissaq Ripke
Leisha Lozano
Elton Chanar
Valerie Wiseman
Terence Slats
Taylor Kairaiuak
Payton Chanar
Matt Enoch
Frank Grubbs
Baniika Slats
Christopher Friendly
Asa Pitka
Alan Xavier
Yugissaq Ripke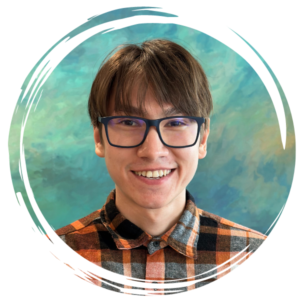 Intern position and department:
Warehouse Intern, Yulista Solutions, Houston, TX.


Village tie:
Chefornak, Alaska


School and major:
University of Alaska Anchorage, Undeclared – General Studies Program


What is your favorite food?
Spaghetti 


What do you like about your internship?
What I like most about the internship is having the opportunity to work with amazing individuals.


What do you like to do outside of work hours?
I enjoy going to the gym after hours and cooking.


What job are you wanting to do after internship/graduation?
After the internship I will continue my education onward to grad school in a career of my choice. Once I graduate, I would like to find a line of work where I help people possibly in Law and Justice or the medical field specifically along the lines of an oral or heart surgeon.


What do you miss most about home?
I miss my family.
INTERN PROJECT HIGHLIGHTS
YulistaCARES BACKPACK PACKING PARTY 2023
Each year, the Calista interns and Shareholders get involved with the annual backpack campaign by packing and sorting backpacks raised by Team Yulista and its communities. This campaign provides necessary school supplies to students in the Calista region and states across the nation. This year the selected villages in the Calista region within the Kuspuk School District are Aniak, Crooked Creek, Sleetmute, and Kalskag.
TAKE YOUR CHILD TO WORK DAY 2023
This year's "Take Your Child to Work Day" event was a successful turnout! This event is important for our Yulista families because it allows them to learn more about the amazing work we do. Interns like Elton Chanar assisted the crew before the events started by conducting quality checks, assisting with event set up and assembly, including being a friendly face at check in for families attending the event. Additionally, Elton presented alongside Calista Shareholder, Josette John, and informed families about the importance of being an ANC and shared fun facts about Alaska.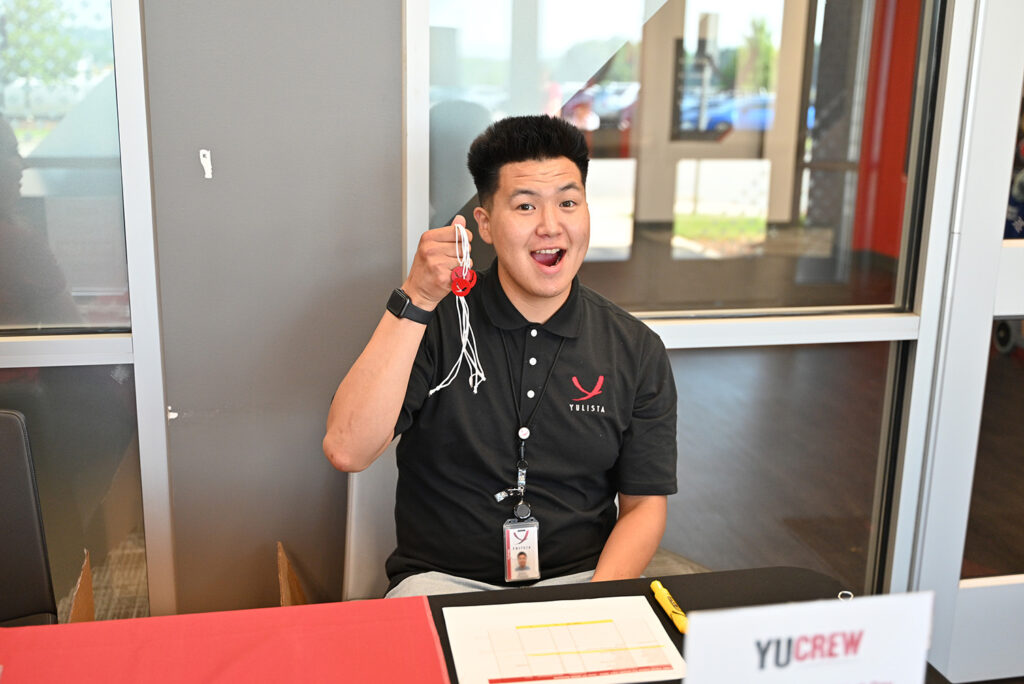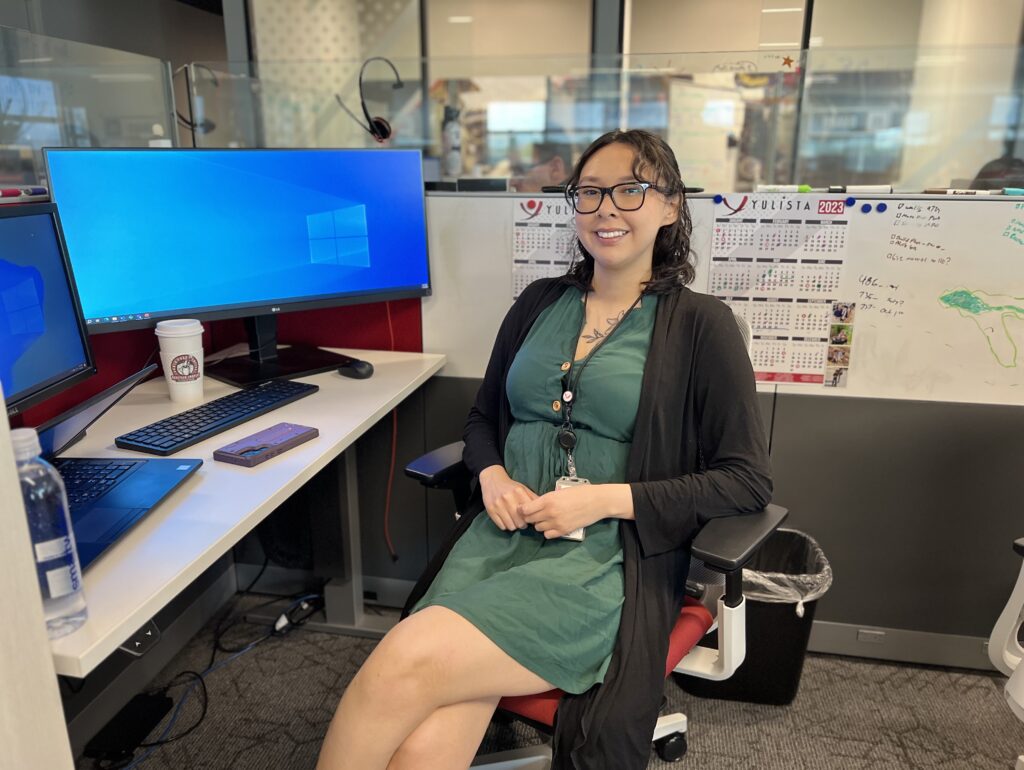 Baniika Slats talks about CDRLs
One of my favorite projects that I have done was working on Contract Data Requirements List (CDRLs). CDRLs contains data that are required and are formally submitted to our government customers. With this project, I got to sit in on meetings and take notes. After I would document what was being said in the meetings that would correspond to the project slides. I really enjoyed this project because it allowed me to understand more on what my coworkers do and their projects. This project helped me advance and refreshed my skills with Microsoft PowerPoint as well as Microsoft Word. Most of all, I really enjoyed being able to sit in on professional meetings. – Baniika Slats
Valerie Talks Parts and Materials
There are many duties that have become my favorite project during my internship. One of them included putting parts and materials into a location after receiving them from the quality department. Each of the materials are organized in a shelf identified by their abbrevs. Doing this helped me understand to learn how important the steps are and to pay attention to each detail. I'm detail oriented, so this job is perfect for me, and I really enjoy doing this kind of work. After putting them into a location, we carefully enter the data into the system and making sure to include every number and letter on the parts and materials so that each item will be easily located for when it is needed. – Valerie Wiseman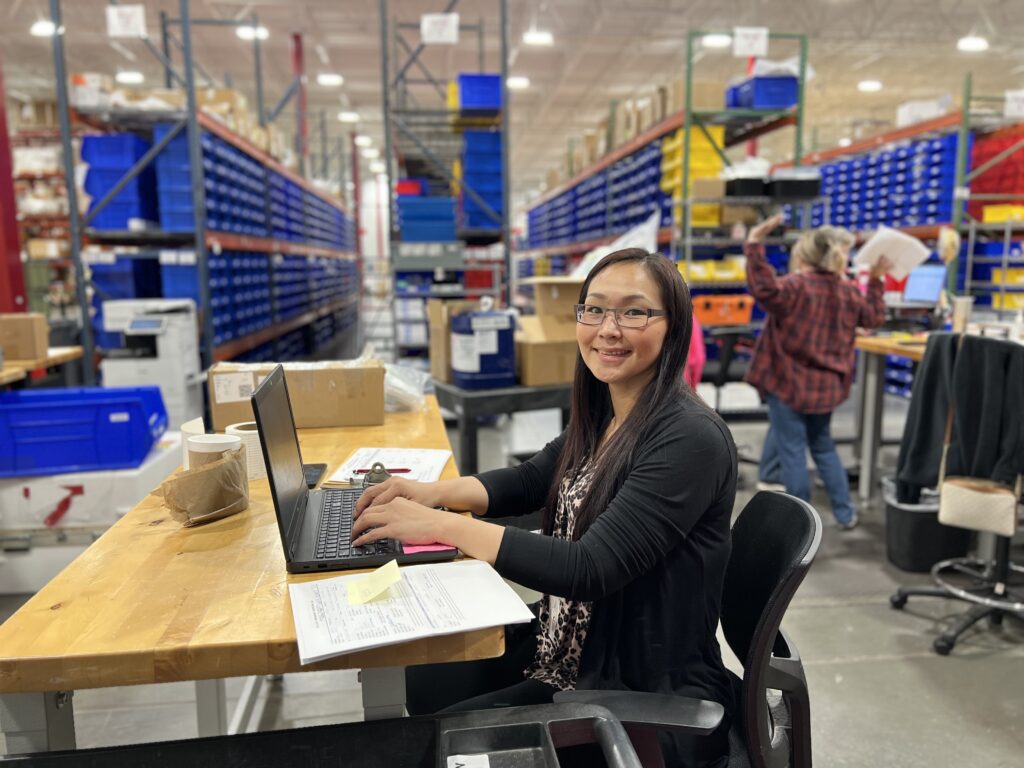 Check out the "Day in the Life of a Calista Intern" series as Marketing Intern, Elton Chanar, gives you a sneak peak into what they did this summer. Each video includes their time in different departments and all the fun activities they did on their free time!